Perhaps like me, you have a website maintenance job on the side. Don't let the mundane webmastering task narrow your field of vision away from the full potential of website development. I think it's important to keep up the study on website trends and techniques for funnelling business and customers, because in the long-run, this makes you a better contractor and business person. If need be, contacting professionals like the ones at 404 design could prove useful if you feel that your idea of a website is not up to date with the recent marketing trends.
Website design and development is something that many businesses and individuals need to create a website they are proud of. That is why designers like Hooked Marketing as well as people like you, are needed to make this a reality.
I've picked out some websites today that fascinate me based on their ingenious attention to engagement, by creating visuals and storifying their websites:

From www.webdesigndev.com – April 30, 10:30 PM
Light effects, if used correctly can give a website that nice warm glow to make it stand out and look more beautiful.
Looking at these websites severely gives me a cramp in the gut for being not so brilliant at visual design myself. Perhaps the realization is that I really need to hire a web graphic designer. While I admit I cannot do everything myself, taking a look at these examples makes me think more about working on my side business rather than in it. I can appreciate great aesthetics, but I'm just not the person to achieve this on my own!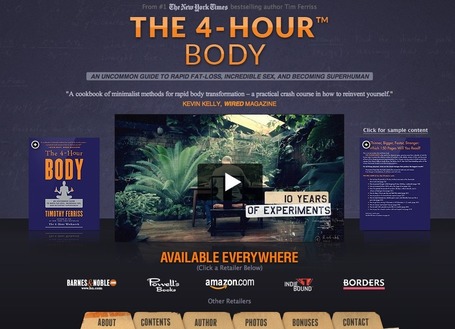 From venturebeat.com – April 30, 10:29 PM
If you want to highlight a product, build a landing page. If you're an internet marketing guru, make a squeeze page. But if you want to start on online movement — and maybe sell a few books, speak…
OK, I started out with the idea of introducing you to some web aesthetics inspiration, but after seeing this I just want to kill myself. "Storying" a website is changing a website's structure to introduce engagement into the actual funnelling of behavior through the website. This is pretty much every digital marketer's dream. The user's behavior will depend on the options presented to them, now more fully immersed in your website and emotionally more connected to your brand. I'd love to do this to my little side websites, but the whole idea seems unnervingly daunting with an existing website in place. You tell me – inspiration or overwhelming?
From www.onextrapixel.com – April 27, 7:24 AM
Ever since the fall of Flash and the rise of HTML5, we've seen a lot of developers experimenting with the possibilities of HTML5.
So now after being introduced to the idea of the story driven website, it all becomes clear to me now. The structure can be deceptively simple. Many are based on what seems to me like a single deep page. Rather than being a scroll of death like the early 2000's trend of websites we saw that overused the idea of landing pages, we now see a combination of visuals that extend the page.Granted this is still beyond me in terms of my capability of web design and managing the hosting account of my various clients. But with 10 great examples here, bookmark this page and use it for storyboarding ideas out to clients yourself.Let me know if you have any great story based websites you have built, or stumbled across, I'd love to feature a roundup in a future post on Superb.