Time to check what dusty websites and information you have left lying around on the internet: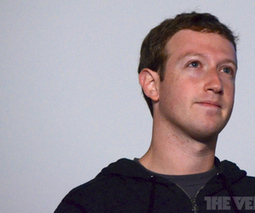 From www.theverge.com – Today, 3:31 AM
The sleuths at Hacker News appear to have uncovered a relic from the dusty ruins of the '90s web: Mark Zuckerberg's Angelfire webpage. While we can't confirm that the site actually belongs to Facebook's Zuckerberg, the evidence is compelling: the social network magnate spells his full name out in the page's source code
Yes, we've probably all left a desolate trail on the internet of our past experiments and aliases. However, probably none so foreboding as the future we're going to embrace. Angelfire is of course a free website platform, which means there are more ads than on Facebook to really add to your user's viewing pleasure. Take a look at your old domains and see what activity and snapshots exist on the wayback machine. This is incidentally, how the sleuths at Hacker News correlated site upload and activity to the dates of ownership.
From web.archive.org – Today, 4:03 AM
Check it out, here's the activity of Mark Zuckerbergs 1st website.
The counter originally showed only 210 people have been to it so far. So this was an exceptionally cool find, except now we're over 3,000 views which is pretty surprising seeing as there are no cat pictures on the site.
You can type in any of your old domains and look at old screenshots of your sites. Were there any signs of future success? Even if not, then maybe you can tell if you've been sitting on a heap of junk that was actually worth something after all. Check out Simon Johnson's article on how to tell if your Domain Name is worth selling, and how much it could be really worth!
From marketing.com.au – Today, 3:45 AM
Domain names and websites can be worth big $$$$. So how do you know if you are sitting on a goldmine or a pile of junk?
Simon Johnson from IP Neighbourhood discusses frequently asked questions
"What's my domain worth" or "How much can I sell my website for?"
You never know, you may have found internet history of your own that was worth something after all. How many domain names do you own, but never really look after? If you have interesting Domains to sell, how did your process go? Was it a super success, or merely a hassle. Let us know in the comments or followup on Google Plus.- Juliana